In 1873, only five years after the Meiji Restoration, Zenichiro Kanaya opened Kanaya Cottage Inn, which was specifically designated to accommodate foreign guests. In relocating the business to another location in Nikko, he established a full-fledged hotel, Kanaya Hotel, which is widely known today as the oldest western-style resort hotel in Japan. Following Zenichiro's death in 1923, his son Shinichi took over the hotel management. However, the hotel underwent difficult times during the Second World War when many of its employees were drafted into military service.
When the war ended in 1945, the American army of occupation assumed control of the hotel. This lasted until 1952.
While Japan has drastically changed over the years, Kanaya Hotel has followed in the footsteps of its founder and upheld its tradition with pride as Japan's oldest western-style resort hotel.
The Hotel with Over 140 Years of History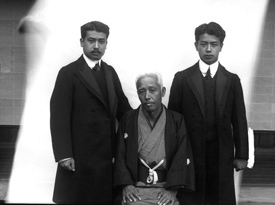 Shinichi (1st son) Zenichiro Shouzo (2nd son)
photographed in 1899

Kanaya Cottage Inn (1888)

Kanaya Hotel (Late Meiji)

Kanaya Hotel (1916)

Kanaya Hotel (present)
People Who Supported Zenichiro's Venture
It was indeed extraordinary to start hotel business for foreigners in early Meiji period. Japanese people at that time held a deep prejudice against foreigners. It was extremely difficult for them to accept cultures and languages that were incomprehensible to them. In these circumstances, Zenichiro Kanaya offered a room for Dr. James C. Hepburn to stay during his first visit to Nikko in 1870. It was then that Dr. Hepburn encouraged Zenichiro to go into hotel business with an eye toward Nikko's future.
Zenichiro, a 21-year old member of the Toshogu Gagaku (an ancient imperial court music) Orchestra, had little experience with foreigners, let alone in speaking English. The success of Kanaya Cottage Inn came as a result of Zenichiro's open-mindedness and energy, as well as the strong support he received from the people he attracted.
Dr. James C. Hepburn, who was living in Yokohama, recommended Kanaya Cottage Inn to his friends. Isabella Bird was one of them. She visited Nikko and stayed at Kanaya Cottage Inn on her way to Hokkaido. She wrote favorably of Nikko, Zenichiro, Kanaya's service and hospitality in her travelogue, "Unbeaten Tracks in Japan" published in 1880.
Zenichiro also had hearty support from his family. In particular, his older sister Sen, assisted Zenichiro with her warm personality and elegant manners that many guests noticed and appreciated.
Nenpo Kobayashi, a Nikko-born millionaire, gave Zenichiro financial support that made possible the opening and operation of the hotel business. Shotaro Sakamaki was hired as Kanaya Cottage Inn's manager and interpreter to help Zenichiro to understand western customs and English.
Dr. James C. Hepburn 1815 – 1911

An American medical and Christian missionary to Japan. Dr. Hepburn was the founder of "Hepburn romanization" of the Japanese language. He also was the founder of Meiji Gakuin University. He completed the Japanese translation of the Old Testament around 1880. He also played an important role in Japan's modern medicine, university education and Christian missions in Japan.

Isabella Bird 1831 – 1904

The first foreign woman to travel in the northern Japan in 1878. On her way to Hokkaido, she stopped in Nikko where she stayed at Kanaya Cottage Inn for twelve days. She subsequently visited Nikko twice and stayed at Kanaya Hotel each time. She left behind many sketches of what she saw during her stay in Japan.

Sen (Kanaya) Saruhashi 1848 – 1924

Sen stayed at Zenichiro's house while her husband was away on business trips. She was highly involved in the early days of Kanaya Cottage Inn. Her graceful and refined approach received praise from Isabella Bird.

Nenpo Kobayashi 1848 – 1895

Nenpo came from a distinguished family in Nikko who served the Tokugawa Shogunate during the Edo Period. After imperial rule was restored in 1867, Nenpo moved to Shizuoka to follow the last Shogun, Yoshinobu Tokugawa. In 1879, Nenpo founded the 35th National Bank (currently Shizuoka Bank) and became its first president. He opened Kobayashi Bank in Nikko in 1889.

Shotaro Sakamaki 1863 – 1919

Shotaro was born into a wealthy family in Otawara, which is located to the north of Nikko. In 1885, he traveled to America at the age of 22 to study hotel management in San Francisco. After returning to Japan, Shotaro worked as the manager and interpreter of Kanaya Cottage Inn. He also taught English to Zenichiro's two sons. In 1894, he opened Lakeside Hotel on the shore of Lake Chuzenji, Nikko. He married the oldest daughter of Zenichiro's sister Sen.
Renowned Foreign Guests at Kanaya Hotel
When Japan finally opened its doors to the world in 1854 after more than 200 years of isolation, it received an influx of foreigners who arrived in Japan for diplomatic purposes. The number of visitors to Nikko also increased sharply, especially after the government began in 1874 to issue domestic travel licenses to the foreigners who wished to travel to rural areas. The signatures of some historical figures still remain on the pages of Kanaya Hotel's old guest books.

Guest Book of 1895 (Isabella Bird signed as Mrs. Bishop)

Guest Book of 1922 (Albert Einstein signed)
1870

James Hepburn
(USA) (Medical Missionary) 
1874

Harry Parkes
(UK) (Counsel-General)
1878

Isabella Bird
(UK) (Explorer)
1879

Ulysses Grant
(USA) (President)
1882

Samuel Gardiner
(UK) (Historian)
1888

Walter Weston
(UK) (Missionary)
1904

Basil Chamberlain
(UK) (Japanologist)
1904

Erwin Balz
(Germany) (Medical Scientist)
1905

Frank Wright
(USA) (Architect)
1906

Prince Arthur of Connaught
(UK)
| Year | Notable Events (Japan & World) | Events Related to Nikko and   Kanaya Hotel |  Renowned Foreign Guests of Kanaya Cottage Inn and Kanaya Hotel |
| --- | --- | --- | --- |
| 1851 | World Exposition in London (UK) | | |
| 1852 | | Zenichiro Kanaya was born | |
| 1853 | Commodore Perry's Expedition to Japan | | |
| 1854 | Japan opened the country to the world | | |
| 1861 | Outbreak of Civil War (USA) | | |
| 1863 | End of Civil War (USA) | | |
| | Emancipation Proclamation (USA) | | |
| 1867 | End of the Shogunate / Emperor Meiji began his rule (Japan) | | |
| 1870 | | Dr. Hepburn suggested Zenichiro opem a hotel for foreigners | James Hepburn (USA) (Medical Missionary) |
| 1871 | Japan sent a delegation to Europe and the U.S. (the Iwakura Mission) | | |
| 1872 | | Earnest Satow, a U.K. privy counsellor, visited Nikko | |
| | | Earnest Satow's "A Guidebook to Nikko" was published in Yokohama | |
| 1873 | | Zenichiro Kanaya, at the age of 21, opened Kanaya Cottage Inn | |
| 1874 | Meiji government started issuing domestic travel permits to foreign representatives (Japan) | | Harry Parkes (UK) (Counsel-General) |
| 1876 | Alexander Graham Bell invented telephone (USA) | | Emile Guimet (France) (Businessman) |
| | | | Felix Regamey (France) (Artist) |
| 1877 | Thomas Edison developed gramophone and phonograph (USA) | | Edward Morse (USA) (Anthropologist) |
| 1878 | | Isabella Bird visited Nikko and stayed at Kanaya Cottage Inn | Isabella Bird (UK) (Explorer) |
| 1879 | | Shinichi Kanaya, Zenichiro's first son, was born | Ulysses Grant (USA) (President) |
| 1880 | | Isabella Bird's "Unbeaten Tracks in Japan" was published in the U.K. | Arthur Crow (UK) (Writer) |
| 1881 | | | Edmond Coteau (France) (Explorer) |
| 1883 | Orient Express railway began service (Europe) | | Samuel Gardiner (UK) (Historian) |
| 1885 | | | Thomas Glover (Scotland) (Merchant) |
| 1887 | | | William Kirkwood (UK) (Lawyer) |
| | | | Earnest Fenollosa (USA) (Art Historian) |
| | | | William Bigelow (USA) (Art Historian) |
| 1888 | | | Walter Weston (Missionary) |
| 1889 | | | Alfred East (UK) (Artist) |
| 1893 | | Kanaya Cottage Inn was relocated to Hatsuishi and newly opened as Kanaya Hotel | |
| 1894 | | Shotaro Sakamaki opened Lakeside Hotel on the shore of Lake Chuzenji | |
| 1896 | | Earnest Satow's private lodge was built on the shore of Lake Chuzenji | |
| 1901 | Queen Victoria died (UK) | | |
| 1902 | Anglo-Japanese Alliance | | |
| 1904 | | | Basil Chamberlain (UK) (Tokyo Univ. Prof.) |
| | | | Erwin Balz (Germany) (Medical Scientist) |
| 1905 | | | Frank Wright (USA) (Architect) |
| 1906 | | | Prince Arthur of Connaught (UK) |
| 1912 | Meiji Emperor died (Japan) | | |
| 1914 | Outbreak of World War I | | |
| 1917 | Russian Revolution (Russia) | | |
| 1922 | | | Price of Wales (UK) |
| | | | Albert Einstein (USA) (Physicist) |
| 1923 | Great Kanto Earthquake (Japan) | Zenichiro Kanaya died at the age of 72 | |
| 1925 | | Hans Hunter established Tokyo Angling and Country Club | |
| 1926 | Taisho Emperor died (Japan) | | Prince of Sweden (Sweden) |
| | | | Prince Geroge (UK) |
| 1928 | | | Prince Henry (UK) |
| 1929 | Great Depression (USA) | Tobu Nikko Railroad began service | Werner Heisenberg (Germany) (Physicist) |
| | | | Paul Dirac (Germany) (Physicist) |
| 1931 | | | Charles Lindbergh (USA) (Aviator) |
| 1932 | | | Charles Chaplin (UK) (Actor) |
| 1934 | | Nikko was designated as a national park | |
| 1937 | | | Helen Keller (USA) (Author) |
| 1939 | Outbreak of World War II | | |
| 1940 | | | |
| 1945 | World War II ended | Kanaya Hotel came under the control of the American occupation army (GHQ) | |
| 1946 | | | Dwight Eisenhower (USA) (President) |
| 1951 | | Toshogu Shrine was designated as a national treasure | |
| 1952 | | Kanaya Hotel was released from GHQ control | |
| 1953 | | The 80th anniversary of Kanaya Hotel | |
| 1957 | | | Indira Gandhi (India) (Politician) |
| 1963 | President Kennedy was assassinated (USA) | The 90th anniversary of Kanaya Hotel | |
| 1964 | Tokyo Olympic Games (Japan) | | |
| | Shinkansen began service (Japan) | | |
| 1965 | | | Mikhail Sholokhov (Russia) (Novelist) |
| 1972 | Sapporo Winter Olympic Games (Japan) | | |
| 1973 | Middle East War | The 100th anniversary of Kanaya Hotel | |
| 1983 | | | Princess Anne (UK) |
| 1989 | Showa Emperor died (Japan) | | |
| 1993 | | | |
| 1995 | Great Hanshin Earthquake (Japan) | | |
| 1998 | Nagano Winter Olympic Games (Japan) | | |
| 1999 | | Nikko's shrines and temples were registered as a World Heritage Site | |
| 2003 | Iraq War | | |
| 2011 | Great East Japan Earthquake (Japan) | | |
| 2013 | | The 140th anniversary of Kanaya Hotel | |
| 2014 | | Kanaya Samurai House and Storehouse were registered as nationally-designated cultural properties | |
| 2015 | | Kanaya Hotel History House opened  | |